Rosemika :Sponsored By The Boykin Family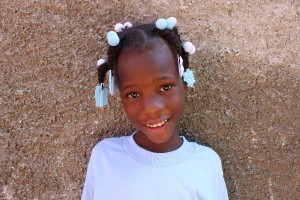 Rosemika is very excited to be in the 4th grade class this year. She is an exceptionally friendly girl, who will make a companion out of anyone. She shows her affection in the biggest and most radical ways. Her joy is contagious. All of the energy and wonder she possesses is quite a special thing to witness. Like most girls her age, in her free time, she enjoys jumping rope, playing with dolls, and reading in her favorite book series, Amelia Bedelia. She has a unique dream to "make wedding dresses" when she grows up, because she says weddings are so beautiful that she wishes to be a part of them in some way.
You may sponsor Rosemika for $35.00 a month which provides meals, medical care and an education at Christian Light School in Port Au Prince, Haiti.
MONTHLY CHILD SPONSORSHIP